All-in-one control system package / CNCMAX
The stepper motor all-in-one control system package CNCMAX combines all required components in one device for automating a CNC machine tool. An intelligent axis controller with comfortable contouring control system monitors any kind of movements and additional signals. Power output stages for 2 up to 4 axes control safely and reliably the existing stepper motors.
An overview of CNCMAX
attractive desktop casing made out of stainless steel

emergency stop switch for a rapid shutdown of drive systems and devices

2, 3 or 4 stepper motor power stages with 3A phase current or individually adjustable up to 10A per axis

switchable from full step mode to 6/10 step for each axis separately

applicable with all 2phase bipolar stepper motorsup to 40kHz stepping rate

5 digital inputs for limit and reference switches, height sensor, protective hood contact, etc., usable changeover function

3 relay outputs, 1 x Schuko socket-outlet (230VAC), potential-free, applicable for drilling/milling spindle, coolant pump, etc.

axis controller with real-time software and intelligent contouring control system, activation via serial interface with protocol in plain text

all connections back-mounted on the casing

easy start-up procedure

intuitive operation with WinPC-NCas control program (option)

a small external keypad can optionally be connected for simplified positioning teach function directly on the machine (option)

additional optocoupled inputs/outputs or analog outputs 0-10V for speed control (option)
All-in-one control system package
The control system CNCMAX is the ideal all-in-one solution for the automation of small machine tools and together with the WinPC-NC intuitive operator interface many applications with 3 or 4 stepper motor axes can be realized.
The intelligent contouring control system with look-ahead function allows an optimized , smooth and fluent travel along any 3D contours.
The correct settings for controlling the mechanical system can be effected by various parameter options, e. g . resolution of axes, speeds, acceleration and deceleration ramps can be individually set and optimized by intelligent test functions.
Operation and activation
CNCMAXis operated by a protocol in plain text and by theserial interface RS232 as it is available on any PC. WINPC-NC can serve as an example concerning a userfriendly operating program that is able to import and graphically display various NC data formats and sequently perform movements on the machine in step integrity.Thus any kind of common 2 and 3 axis applications can be perfomed, e. g. milling, drilling, cutting, dispensing, flame cutting and much more besides.
For an easy setup procedure it is possible to use an external keypad that is directly plugged on to the CNCMAX. Due to the existing cable the keypad can be taken to the machine for an easier handling.
Basic settings and adjustments foroperation are made via menu by the CNC configurator program which is part of the deliveredpackage.
Options for connection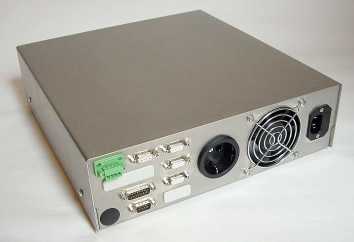 All connections are back-mounted of the CNCMAX casing. The used inputs/outputs as well as the motors can easily be connected by a SubD plug or screw terminals. A front-mounted emergency stop switch is responsible for a fast interruption of power functions. In combination with WinPC-NC there are many possibilities for a synchronizationof jobs with digital signals. For instance, it is possible to analyze signals concerning protection hood, spindle speed, ready, dosing valve, pneumatic tensioning or vaccum desk and much more besides.
Types and options
CNCMAX 3/30- 3 axes with 3A phase current

CNCMAX 4/30- 4 axes with 3A phase current

CNCMAX 3/60- 3 axes with up to 7A phase current

CNCMAX 4/60- 4 axes with up to 7A phase current

CNCMAX 3/90- 4 axes with up to 10A phase current

CNCMAX 4/90- 4 axes with up to 10A phase current
Additional options concerning the CNCMAX system...
addtional optocoupled inputs/outputs

analog output 0-10V for spindle speed

WinPC-NC as intuitive operating program

external keypad with cable length up to 10 m

suitable stepper motors, e. g. 3A, 140Ncm

special technology functions integrated in our WinPC-NC or for a new program which is to be created (on request)