WinPC-NC for stepcraft machines
The small compact machines or construction kits of the Stepcraft Company are delivered with integrated USB hardware. Usually a licence for our WinPC-NC Starter control program is included in the package.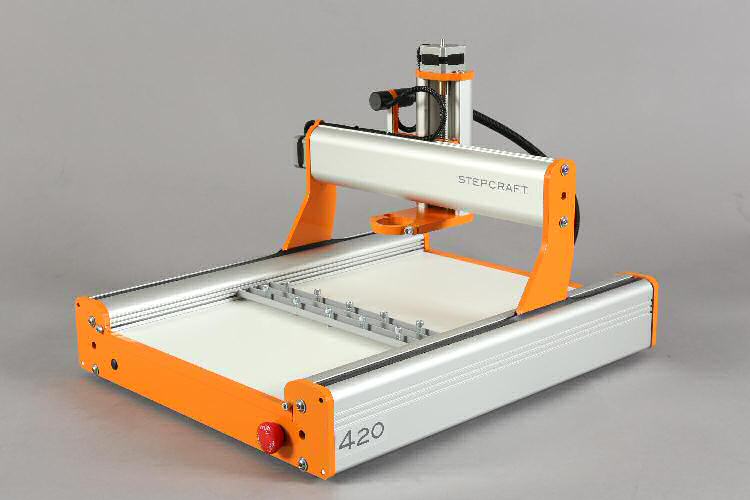 WinPC-NC Starter is a simple and uncomplicated controlling software and is qualified to get used to the operation of the machine. After mastering the basic steps any kind of milling or engraving projects become a true experience. All delivered machines are pre-configurated and due to a simple and well-illustrated instruction guide all tasks can easily be understood and mastered.
Even WinPC-NC Starter allows any kind of demanding and complicated tasks concerning engraving, twodimensional/extensive milling, blank drilling or drawing and the number of jobs or data which can be processed is unlimited. For executing more complicated and challenging tasks or for having more comfort in handling jobs, we offer an upgrade to the full version WinPC-NC USB. This version is equipped with the identical USB hardware and does not require any amendments or re-adjustments of the machine when changing from one version to the other.

WinPC-NC USB for stepcraft machines is qualified for executing following tasks:
Controlling the stepcraft 3D pushbutton

Realizing true 3D milling up to 4 axes synchronously

Changing all parameters and making extensive and substantial settings as required

Interrupting jobs and continuing at specified positions, e. g. after a tool breakage

Importing data in common 3D formats, e.g. DIN/ISO, G-codes, ISEL NCP

Controlling automatic tool changers

Length measuring of tools and compensation

and much more besides...
Concerning WinPC-NC Starter and WinPC-NC USB for stepcraft, we recommen d using the CAM program of FILOU NC for WinPC-NC which renders valuable service in job planning and job organization and provides useful functions.
You can load the order form for stepcraft WinPC-NC USB full version here.